Thierry Chargé
Publication : 26 novembre 2016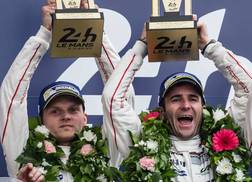 Marc Lieb et Romain Dumas hors-piste. Via un banal communiqué de presse, Porsche a annoncé que Romain Dumas et Marc Lieb, fraichement récompensés d'un titre mondial dans le championnat WEC et vainqueurs de la dernière édition des 24 heures du Mans ne piloteront plus la Porsche 919 Hybrid en compétition.
Les deux pilotes conservent leur contrat et seront amenés à prendre de nouvelles fonctions, toutefois, Porsche n'en communique ni la consistance ni le programme.
Remporter le titre de Champion du Monde d'Endurance 2017, et cerise sur le gâteau, la victoire aux 24 heures du Mans la même année, n'est visiblement pas suffisant pour conserver sa place dans le baquet d'une Porsche LMP1.
Dans un championnat particulièrement relevé avec 3 constructeurs au départ, et non des moindres, et face à des coéquipiers comme Mark Webber, la performance du trio Dumas, Lieb, Janni est exceptionnelle. En complément de ce splendide bilan, Romain Dumas s'est également mis en évidence en remportant la fabuleuse montée de Pikes-Peak au volant d'un prototype géré par sa propre structure.

Dans des bureaux climatisées ou visiblement personne n'a une vague idée du talent qu'il faut pour doubler une LMP2 dans les virages Porsche sous une pluie battante, M. Marketing et Mr Actionnaire ont jugés que les vaillants gladiateurs Dumas et Lieb n'étaient pas digne de représenter l'usine Porsche dans le Championnat du Monde d'Endurance 2017 et pourtant dans le même temps, Porsche déploie le tapis rouge à Alonso et à Lotterer…..

Que reprocher à Romain Dumas et Marc Lieb ? D'avoir des noms de familles moins vendeurs que Webber ou Alonso, ou peut-être, d'être un poil en retrait au moment d'aller chasser la pôle position ?

C'est un peu comme si l'on reprochait au vainqueur d'un marathon olympique d'avoir été distancé par Hussein Bolt lors des 100 premiers mètres de la reine des épreuves d'endurance.

Le retrait d'Audi Sport des compétitions d'endurance n'est pas étranger à cette éviction. Mais, faut-il le rappeler ici, ce retrait a pour origine une triche savamment élaborée, dont le but a permis de vendre des voitures truquées sur le continent Nord-Américain. Le retrait d'Audi laisse donc 6 pilotes d'Endurance sur le carreau et Porsche qui visiblement n'a pas plus d'estime pour ses vaillants représentants et collaborateurs que Volswagen pour l'écologie, va aller y puiser André Lotterer. Le talent du pilote est indiscutable mais la méthode employée est 'dégueulasse'.
Dans le même temps, le même groupe VW abandonne sans volant le quadruple Champion du Monde des rallyes et l'écurie Williams F1 accueille un richissime pilote avec un budget de 100 millions de dollars…..

Où est le sport ?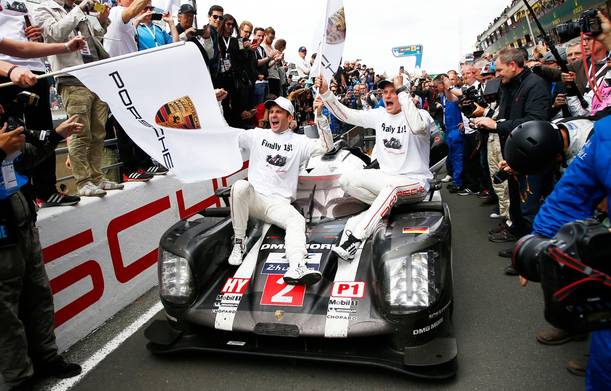 Le communiqué Porsche
Change at Porsche Motorsport: new tasks for Marc Lieb and Romain Dumas

Stuttgart. Two world class drivers, who have tasted success at the very pinnacle of their sport, are about to drive forwards on a new road: From the end of the season, Romain Dumas and Marc Lieb leave the LMP1-Team and their seats in the over 900 hp 919 Hybrid Le Mans prototypes to begin new tasks at Porsche.
Both the French and German racers each have long careers as works drivers. This year, their achievements were crowned by taking the overall win at the Le Mans 24-hour race together and by winning the drivers' title in the FIA World Endurance Championship last weekend in Bahrain. In fact, each driver is a long-distance expert; Dumas (38) has a tally of eight overall victories in international 24-hour races with Porsche, Lieb (36) has six of such successes to his records. And this expertise is secure in the company; both highly accomplished experts remain under contract at Porsche.
Michael Steiner, board member for research and development at Porsche AG, appreciates their dedication to the renowned Stuttgart sports car manufacturer: "Marc and Romain have each made an awesome contribution to our company. This goes for their work behind the steering wheel as well as for their support at other international appearances. They clearly stand for sportsmanship and our brand's values."
Fritz Enzinger, Vice President LMP1, adds: "The LMP1 programme has benefitted immensely from Marc's and Romain's experience, especially during the team's build-up phase and in Le Mans. Together we went through some highs and lows in recent years. I am very pleased that both true racers can conclude this part of their Porsche career as Le Mans winners and world champions. I thank Marc and Romain from the depth of my heart for their high performance driving, their strong commitment and their loyalty."
At the age of 20, Marc Lieb became a Porsche works driver. Yet despite the many international successes, the family man never relied solely on the sport. The father of two children from Ludwigsburg near Stuttgart enrolled at the Esslingen technical college and earned his degree as an automotive engineer. "I always imagined that the LMP1 programme would be my last seat as a works driver", says Lieb, "and I managed to set the course early for my future career outside the cockpit at Porsche. I'm thankful for all the chances and possibilities I got at Porsche for so many years. And I'm especially grateful to my family for supporting me over two decades in racing. This was tough at times and I want to pay back some of it now. To perform the move into international customer racing at Porsche as a Le Mans winner and a world champion, means an incredible amount to me."
Romain Dumas' relationship with Porsche also extends beyond his work in the 919 Hybrid cockpit. Porsche works driver since 2003, he also runs his own team entering - and winning with - Porsche cars in rallying and famous Pikes Peak International Hill Climb. "For me, Porsche is like a family", says the all-rounder who was born in Alès in Southern France and nowadays lives in Arzier (CH). "I think of many great years with great racing cars. We made history quite a few times, in Spa and at the Nordschleife with the 911 GT3, and obviously in Sebring with the RS Spyder. The last three years with the new Porsche Team in the LMP1 category were at the highest professional level. It has been an incredibly competitive and very technically challenging era. Winning Le Mans 24 Hours with Porsche was a dream come true and I am proud of what we achieved all together since many years. I am an man of challenges and there will be a new one soon."
C'est grâce à eux, leurs passions, leurs photos, leurs documents Merci et Merci à tous les contributeurs