18h05 ! Le temps de rejoindre son équipe, il ne restait à Sébastien Loeb, que trois quarts d'heure pour découvrir le tracé du circuit et boucler ses dix tours de qualification.
2eme séance la journée test Lemans 2005 - 14 heures – 19 heures
Pescarolo domine, les Audi à la peine

La deuxième séance de la journée test a vu une pluie fine commencer à tomber vers 17h30 sur le circuit du Mans. Presque toutes les voitures sont immédiatement rentrées au stand pour changer de pneumatiques. Sébastien Loeb n'était alors pas encore arrivé. L'avion spécialement affrété pour le pilote Pescarolo, vainqueur du Rallye de Turquie, ne s'est posé que vers 18h05 ! Le temps de rejoindre son équipe, il ne restait à Sébastien Loeb, que trois quarts d'heure pour découvrir le tracé du circuit et boucler ses dix tours de qualification. Lorsqu'il s'est élancé en piste, un peu avant 18h20, Sébastien Loeb n'a pas été gêné par le trafic, quasi inexistant. Il s'est acquitté de ses dix tours sans souci.
LMP 1
Les Pescarolo ont largement dominé cette journée d'essais, avec un temps «canon» signé par Emmanuel Collard, et la Pescarolo C60 Judd n°16, dont il partage le volant avec Jean-Christophe Boullion et Erik Comas. Avec un chrono de 3'32''468, Collard a fait mieux que la pole 2004 de Johnny Herbert sur Audi (3'32''838). La Pescarolo n° 17 d'Eric Helary, Soheil Ayari... et Sébastien Loeb a tourné en 3'35''893, temps établi durant la matinée par Ayari. 3e place de bon augure pour la Courage C60-H Judd n°13 de Jonathan Cochet, avec un temps de 3'37''674. Le team a essentiellement travaillé au développement de leurs pneumatiques Yokohama. La première Audi, la n°3 du Champion Racing ne pointe qu'en 4e position, avec un temps de 3'38''719 réalisé par J.J.Lehto, soit 5'206 de plus que la Pescarolo n°16. La deuxième Audi du classement est la n°4, du Playstation Team Oreca, 7e avec un temps de 3'39''060 signé par Franck Montagny. 8e place pour la deuxième R8 du Team Champion Racing, la n°2 de Frank Biela et Emanuele Pirro, avec un temps de 3'39''418. 5e position pour la Dome S101-Hb Mugen n°5, du Jim Gainer International, avec un chrono de 3'38''875 à mettre au crédit de Seiji Ara. Fin de séance en beauté pour ce prototype, qui a dû subir un changement de moteur suite à de gros soucis de manque de puissance ! Elle n'a d'ailleurs bouclé que 36 tours dans la journée, dont 14 seulement dans l'après-midi.

LMP2
La première LMP2 est la Lola B05/40 AER du team Intersport Racing (n°32, Gregor Fisken/Liz Halliday/Sam Hancock), 13eau classement général, avec un temps de 3'44''426, réalisé par Hancock. Suit une autre Lola, la n°25 du team RML, à la 14eplace. Dans la bataille que se livraient les Courage, la n°30 du Kruse Motorsport a finalement supplanté la n°37 du Paul Belmondo Racing. Elles prennent les 15e et 16e places au classement général.

GT1
En GT1, avantage aux Aston Martin, déjà auréolées de leur victoire aux 12 Heures de Sebring en mars. La n°58 (Peter Kox/Pedro Lamy/Tomas Enge) a tourné en 3'50''033, (19e place au général), et la n°59 est 20e avec un temps de 3'50''539 signé par David Brabham. La Ferrari n°61 du Cirtek Motorsport de Christophe Bouchut est assez loin derrière (23e) avec un chrono de 3'53''635. Les Corvette ont beaucoup tourné mais n'ont pu venir à bout d'un sérieux problème de vitesse de pointe. La plus rapide d'entre elles est 26e. Il s'agit de la n°64 (Oliver Gavin/Olivier Beretta/Jan Magnussen), qui a tourné en 3'54''183.

GT2
Du côté des GT2, avantage à la Porsche GT3-RSR du White Lightning Racing, 36e avec un temps de 4'04''915. Suit la Panoz Esperante GTLM n°77 du Panoz Motor Sports, 37e en 4'05''059 qui confirme son statut de challenger des Porsche. La Porsche n°76 du team Raymond Narac se classe 3e de sa catégorie (38e au général). Aucun gros incident à déplorer lors de cette journée d'essais. Le drapeau rouge n'a été agité qu'une fois, un peu avant 15 heures, suite à une collision entre la WR LMP2 n°23 du Gerard Welter et la Ferrari 550 Maranello n°52 du BMS Scuderia Italia. Les deux voitures ont pu repartir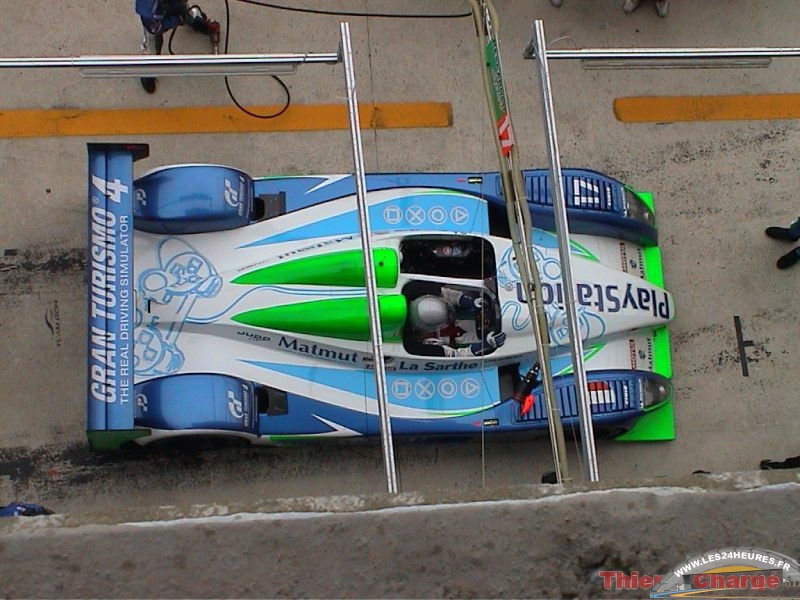 Sunday Testing – Second Session 14h - 19h

After an hour-long break for lunch, the second test session got underway right on time. The weather forecast indicated that there should be no change in temperature and only a 10% chance of rain between 14:00 hrs and 19:00 hrs. It was interesting to see which teams appeared to be looking to set competitive times and which ones seemed more concerned with car set-up and driver qualification.
LMP1.
One team concentrating on lapping at close to race pace was Pescarolo. The two cars spent very little time in the pits and by the end of the session, Emmanuel Collard in the No.16 car had clocked the sort of times that claimed the 2004 pole for Johnny Herbert and the Audi. The No.13 Courage was not far behind that pace. The Audis seemed unable to match the French cars, with the No.3 car of Lehto/Werner/Kristensen the fastest, some 6s away from the Pescarolos.

LMP2.
The No.25 RML MG-Lola started the session in the lead but that was gradually reduced by the Intersport Racing No.32 Lola B05/40 AER. These two cars share a similar Lola chassis but have different engines. The closeness of this class shows that the new regulations are working well and the times were very close. In two weeks time, this class is likely to be a straight fight between the Lola and the Courage C65 chassis.

LM-GT1.
The Aston Martins were here to prove a point and straight away they began putting in fast times, never losing their 1st and 2nd position in class throughout the session. The two DBR9 cars swapped positions from the first session, with the No.58 Kox/Lame/Enge car finishing ahead of the No.59 Brabham/Turner/Sarrazin car. The No.63 (Fellows/O'Connell/Papis) and No.64 (Gavin/Beretta/Magnussen) Corvette C6-Rs appeared to be working to a totally different agenda, concentrating on a race set-up. Possibly, the surprise of the day in the GT1 class was the No.61 Cirtek Ferrari 550 Maranello of Bouchut/Fomenko/Vasiliev. They were only 3 secs off the pace of the Aston Martins. The two Astons did 78 and 77 laps respectively until 17:40 hrs, when it started raining. The Ferrari covered 53 laps and the faster of the two Corvettes, No. 64, driven by Beretta, Gavin, and Magnussen, 85.

LM-GT2. The class leader during testing was undoubtedly the No.90 White Lightning Porsche GT3-RSR. Their pace became very obvious when Timo Bernhard set a new unofficial GT2 track record during morning testing. But towards the end of the second session the rest of the teams had begun to catch up. The No.71 Alex Job Racing Porsche GT3-RSR of Rockenfeller/Lieb/Hindery closed the gap to within 1.5 secs and within 0.5 sec of them was the No.77 Panoz Esperante of Auberlen/Liddell/Maxwell. The No.93 Scuderia Ecosse Ferrari 360 Modena had a troubled time, finishing the day 6th fastest in class. Considering a fuel pick-up problem that made them run on full tanks all day, this was an excellent for their relatively inexperienced drivers Kinch, Kirkcaldy and Reid. Another UK-based team working at their own pace was the No.95 Racesport Peninsula TVR Tuscan 400-R of Hartshorne/Stanton/Johnson. "We are just being cautious," explained Team manager Dennis Leech, "we are trying something with the differential and that caused a small oil leak. There is no rush today so we did a 'spanner check' on the whole car. We are concentrating on handling today. Due to the high speed nature of the track it calls for different aerodynamics than we would use anywhere else and at the moment we are a couple of miles an hour down on our top speed." One of today's big stories was Sébastian Loeb's ambitious dash from Turkey to put in his mandatory 10 laps. His plane was delayed an hour and Loeb arrived with barely enough time to complete the all-important tenth lap – he started it with just 21 seconds to spare!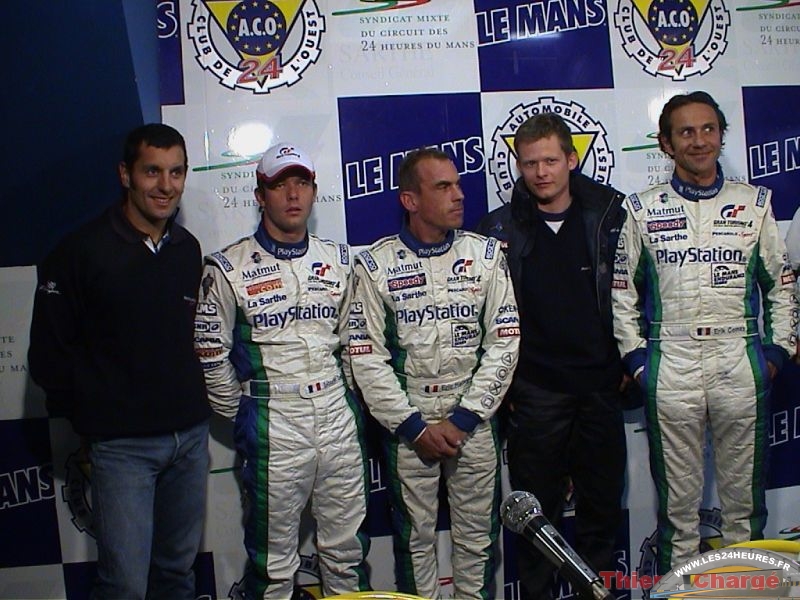 Post-Session press conference:
Franck Montagny
(No.4 Playstation Team Oreca Audi R8): "
Today was not a bad day. We're quite happy with today's result with our car, it was what we expected. I used to work with the same people back in 2002, and everyone has improved – the reactions of everyone are better. It was a perfect day; we had no problems with the car, we didn't touch any kerbs or go through any gravel traps.
"
Sebastien Loeb
(No.17 Pescarolo C60 Judd): "
There were two stages of the Rally of Turkey left today; I started the stages with a 1:15s lead, drove carefully and won by a minute. I had authorisation from the FIA to miss the press conference, and flew straight here. Now it's okay, we've done our ten laps. The conditions were difficult, as I was on slick tyres and there was some rain on the track. The car was well prepared – Pescarolo had the two best times of today. Obviously going from the Citroen Xsara it's very different, but the car was okay. I was driving how I felt; I did a lap in 3:45s, the track wasn't too wet and I was going quicker, but then it started to get wetter. After that I just concentrated on staying on the track and doing the ten laps.
"
Emmanuel Collard
(No.16 Pescarolo Sport C60 Judd): "
For sure we could go quicker. Today we were just using race tyres, and we were quick. If we had used qualifying tyres, we would definitely have been quicker –maybe 2 seconds. I was very happy with the set-up, and I have to say thank-you to my team-mates; my first lap in the car was a 3:36s. It just seems perfect
."