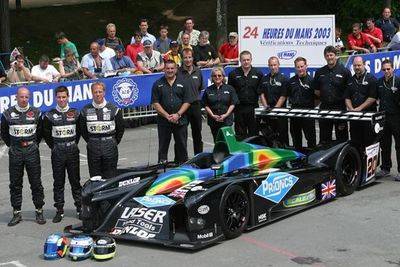 Lister Racing aux 24 heures du Mans 2003
Lister Storm LMP1 no 20
Directeur : Laurence Pearce

Historique
A partir de 1954, Brian Lister se lança dans la construction de prototypes propulsés par divers moteurs, MG, Bristol, Maserati, Chevrolet et surtout Jaguar. Le pilote Archie Scott-Brown remporta de nombreux succès avant de se tuer en 1958, année où la Lister-Chevrolet remporta quelques succès outre-Atlantique, Moss et Scott-Brown la pilotant en Europe.
Deux Lister-Jaguar participèrent aux 24 heures du Mans 1958, celle de Hallard-Naylor se classant 15ème, la seconde fût trahie par son moteur, tout comme les deux voitures engagées en 1959 et l'unique exemplaire présent en 1963.
Entre temps, Lister avait fermé ses portes et son nom ne réapparut que dans les années 80 lorsque Laurence Pearce obtint de Brian Lister l'autorisation d'utiliser le nom.
Après avoir modifié des Jaguar XJS, puis construit des répliques des anciennes Lister, Pearce redonna ses lettres de noblesses à la marque en 1993 avec la Storm, pour laquelle Tony Southgate fût consulté.
Son moteur placé à l'avant est un V12 Jaguar de 7 litres dérivé des groupes C. Effectuant ses grands débuts en 1995 au Mans, la Lister fût vite éliminée par un bris d'embrayage.
En 1996, la Storm GTS a terminée 19ème aux 24 heures du Mans et a brillé dans les courses BPR.
En 1997, aucune des deux Storm GTL (L pour Lightweight) n'a pu terminer et en 1998, l'unique voiture engagée n'a pas pu passer le cap des vérifications techniques lors des pré-qualifications. Depuis, Lister s'est bien rattrapé en remportant victoires et titres dans les championnats GT Britanniques et FIA où la Storm continue de s'illustrer.
Après une longue gestation, le prototype Lister dessiné par Andy Thorby (ex-Panoz) a enfin fait ses débuts à Sebring en l'absence de son concepteur qui ne fait plus partie de l'équipe. La face avant tranche radicalement avec les choix opérés par la concurrence. Le moteur, issu de la Chevrolet Corvette, est préparé par Lister. C'est la première fois qu'une telle combinaison est au départ des 24h du Mans.
24h du Mans 2003. Jamie Campbell-Walter est rejoint par son compatriote Nathan Kinch. Pour les deux hommes, les premiers tours au Mans se conclue par le 16ème temps absolu en 3'48''983, à mettre en perspective avec la performance réalisée par Tom Kristensen (Bentley Speed 8) en 3'34''820. L'écart, important, s'explique logiquement par le manque crucial d'essais réalisés cet hiver par l'équipe Lister qui va connaitre une semaine mancelle riche en émotions.
Jamie Campbell-Walter, pilote emblématique du constructeur, souffle le chaud et le froid dans le cockpit de la Storm. Auteur d'un prometteur chrono le mercredi en 3'43"857, le Champion FIA GT 2000 va partir à la faute dans les « S » de la forêt lors de la seconde séance qualificative. Pour la voiture, trop endommagée, le verdict est sans appel et son forfait est officialisé par l'Automobile Club de l'Ouest. C'est la douche froide dans le stand n°20. Nathan Kinch, Jamie Campbell-Walter et Vincent Vosse ne prendront donc pas le départ des 24 Heures du Mans 2003.
Name

Lister Storm LMP

Category

LMP900

MOTOR

Lister

Type

Atmo

Disposition

V8

Distribution

Powering

Spark

MoTeC

Over powering

Couple

Maximum engine speed

6,500 rpm

Restriction

31,3

TRANSMISSION

Hewland TLS

Gearbox

6-speed sequential

CHASSIS

Carbon

developer

Lister

Suspensions

Lister

BRAKES

AP

SHOCK ABSORBERS

Penske

POWER STEERING

Yes - Kayaba

BODY

Carbon

Developer

Lister

PREPARATION

Lister

POWER

Lister

TYRES

Dunlop

WHEELS

BBS

HEADLIGHTS

Hella

WEIGHT (kg)

900

TANK (maximal containing)

90 litres

Name of team

Lister Racing

Location of team

Leatherhead, England

Nationality

British

24h du Mans number

20

Victories

2002 - 2nd FIA GT Championship
2001 - 3rd FIA GT Championship
2000 - 1st FIA GT Championship

Owner

Nicolaus Springer

Managing director

Laurence Pearce

Technical manager

Laurence Pearce

Team manager

Laurence Pearce

Chassis engineer

Laurence Pearce

Motor engineer

Laurence Pearce

Mechanic chief

Damien Lewis
The first Lister sports racer was designed in 1954 by Brian Lister; the cars competed against Jaguar D-types and Aston Martins throughout the 1950's. The '54 season initially featured a Lister MG, which scored five wins and eight second places in the hands of Archie Scott-Brown. This was followed in June of that year by the Lister Bristol, which won its class in the supporting race to the British Grand Prix ahead of the works Jaguars and Aston Martins. A further 13 victories were recorded that year.
Scott-Brown went on to dominate the British sports-racing car season in 1957, winning 11 out of 14 races in total and the prestigious British Empire Trophy Race, aboard a Lister Jaguar.
As a result of this success Brian Lister attracted customer orders for an improved 1958 version of the car, which conformed to international regulations; this car was to be known as the 'Knobbly' Lister-Jaguar (a Centenary Edition of this car was built to celebrate 100 years of the Lister company in a joint venture between Brian and current Lister helmsman, Laurence Pearce, in 1990). More success followed with Stirling Moss winning the support race for the British Grand Prix and Lister Chevrolets dominating the American sportscar scene. This year also marked the debut of Lister Jaguar at Le Mans, where two cars competed in the French classic and one placed 15th. Lister Jaguar returned to Le Mans a year later, again with a two car squad. Glory was not to come their way, however, as both cars retired with engine problems. The lead car showed that the British racing combination had unfinished business at Le Mans however, as it was running in fourth place at the time of its retirement.
From 1959 until the early 1980's, Lister Cars retired from competitive racing. However, the name was revived following the involvement of engineer Laurence Pearce and a new car was designed to take part in a series of races for Jaguar sports cars known as the Lister Challenge. During this decade Laurence, in association with Brian Lister, was responsible for the rebirth of the company as a producer of performance road cars. This then led to the design in 1991 of an all-new supercar, as opposed to the Jaguar conversions that had previously been produced under the Lister name; the Storm.
With the Storm road car being launched in 1993, Laurence and Lister then had the perfect machine to rekindle the works Lister Cars racing team of the 1950's. The emergence of GT racing as the world's top sportscar arena over the past few years had provided ideal timing for a Lister Storm GT1 contender to return to the international competition stage. Lister has the experience of three Le Mans 24 Hours, three Daytona 24 Hours, FIA GT Championship, the BRDC Privilege Insurance GT Championship, the American SportsCar racing series and the Spanish GT Championship.

1998 – Julian Bailey and Tiff Needell were runners up in the British Championship with the Newcastle United backed Lister Storm GT1 – winning the Golden Jubilee Trophy and the Silverstone Cup.
1999 - The Newcastle United backed Lister Storm GT1 driven by Julian Bailey and Jamie Campbell Walter won the British GT1 Championship and the RAC Tourist Trophy. They also won the historic Oulton Park Gold Cup. David Warnock in the GT2 Storm won the British GT2 Championship and the John Woolfe Trophy.
In the international FIA series, the Storm GT2 showed its potential to beat the all-conquering Vipers. At Zolder Julian qualified the car on pole (the first time in an international race for a Lister works team for 41 years when Stirling Moss took pole in a Lister on the same weekend) and achieved fastest lap in the race. A second Storm driven by Mike Hezemans and David Hart finished 3rd – a first podium finish for the modern Listers. At Donington in September, with only one car entered, Julian Bailey achieved pole position, led the race for the first hour, then there was a disastrous pit stop outside the team's control, but the Storm still finished 2nd just behind the Oreca Viper.
2000 – the Lister Storm Team won the FIA GT Constructors World Championship, Julian Bailey and Jamie Campbell-Walter won the FIA GT World Drivers Championship (winning 5 out of 10 races, 6 pole positions – the second Lister of Philippe Favre & Nicolaus Springer achieved a further 2 pole positions). Among their victories was the British Empire Trophy at Silverstone – a repeat of Archie's success in the 1950's. Julian and Jamie also won the John Cobb Trophy for the best achievement by British drivers in a British car.
The Lister Storm Team won the Team Championship in the British Championship; David Warnock was runner-up in the Drivers Championship with six wins and a second position from the 12 races.
2001 – The Lister Storm Team has won the British GT Championship with Mike Jordan and David Warnock. Third in the FIA GT Championship
2002 - Two cars competing in the FIA GT Championship, one car in the British GT Championship. Second in the FIA GT Championship
Bibliographie
Guide Informations Presse 2003/ Infos Courses