20h00 - 22h00 : Audi poursuit sa démonstration
Alors que la nuit tombe sur le circuit du Mans, et que la pendule affiche 22 heures, les trois Audi R8 continuent de tourner à un rythme élevé.
Derrière Aïello (N°9), Capello (N°7) et Pirro (N°8), c'est toujours la Panoz "usine" N°11 de Brabham-Magnussen et Mario Andretti - alors au volant - qui mène la chasse en se maintenant dans le même tour que les voitures allemandes. La seconde Panoz officielle, la N°12 pilotée par Katoh, O'Connell et Raphanel se tient en embuscade, à moins de deux tours.

La Lola-Rafanelli en difficulté
Mais à quelques instants de cette échéance, la principale (mauvaise) nouvelle arrive des "esses" du Karting, où la Lola-Judd N°21 du Team Rafanelli est arrêtée tout près du mur après une sortie de route... Le malheur des uns faisant le bonheur des autres, le "top ten" s'en trouve modifié puisque la belle "rouge et verte" occupait alors la 6ème place. Ainsi, la Cadillac N°3 de Bernard­Collard-Montagny, la Reynard-Judd de Johansson-Matthews-Smith, la BMW N°15 de Bscher­Gounon-Lees (qui n'a cessé de gagner des places depuis le début de la course, en adoptant une allure rapide et régulière) montent toutes d'un cran dans la hiérarchie. Et la Courage C52 de Bourdais-Grouillard-Clérico accède au "top ten".
Auparavant, la Reynard-Mopar N°6 s'est arrêtée à Mulsanne, en proie à des ennuis d'accélérateur, avant de regagner son box au ralenti. Et, vers 20h 35, c'est la Cadillac N°1 alors pilotée par Franck Lagorce qui a éclaté un pneu arrière au début des Hunaudières. La voiture est restée sur la piste et n'est même pas trop sérieusement abîmée !. Elle repartira en 32ème position, à 21 h 40, aux mains d'Andy Wallace qui signera bientôt le meilleur temps des Cadillac enregistré depuis le début des 24 Heures... La Cadillac N°2, dont on a changé l'aileron arrière et l'extracteur, tourne également vite et revient à la 19ème place.
Hécatombe chez les "petites"
Les LMP 675 n'étaient pas nombreuses au départ, et leurs effectifs s'amenuisent singulièrement : la Reynard-VW-ROC N°33 abandonne officiellement peu après 20 heures (moteur), et sur la N°34, c'est aussi le propulseur qui donne des inquiétudes à l'équipe de Fred Stalder. Du côté de chez WR, si la N°36 de Terada-Balandras-Boulay évolue honorablement, la N°35 n'a pas résolu ses problèmes de surchauffe. C'est donc, plus que jamais, l'inattendue Lola-Nissan des canadiens Maxwell-Graham-Wilkins qui mène la danse.
Les Viper mordent !
Mais pas la poussière !. Chez les LM-GTS, les Corvette, en dépit d'une résistance acharnée (elles sont à un petit tour), ne parviennent que difficilement à suivre le rythme imprimé par les trois Viper­ORECA qui évoluent aux 14ème, 15ème et 16ème places dans l'ordre des numéros, emmenées par la N°51 de Beretta-Wendlinger-Dupuy.
En catégorie LM-GT, la Porsche GT3-R N°83 du Dick Barbour Racing continue son quasi-cavalier seul, loin devant la GT3-R N°73 de Fukuyama-Yogo-Lambert.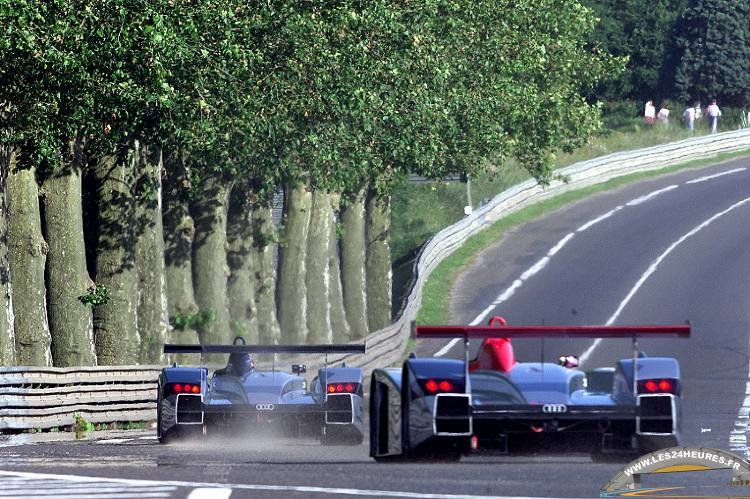 20h00 - 22h00 : Audi dominate
As night fell on the Le Mans circuit the 3 Audis still monopolised the first 3 places. In fourth was the first of the works Panoz Spyders in the hands of Brabham-Magnussen-Andretti who were still on the same lap as the German cars while its team-mate No10 was two laps behind.

The Rafanelli Team Lola in difficulties
Just before 22h00 the No.21 Team Rafanelli Lola stopped beside the wall in the Karting esses. Naspetti got out of a car whose race seemed to be run due to an accident. Thus, the top ten was modified as the Lola had been in sixth place. The No.3 Cadillac of Bernard-Collard-Montagny, the Johansson-Matthews-Smith Reynard-Judd, the No.15 BMW of Bscher-Gounon-Lees all moved up.
The Courage C52 also appeared in the top ten for the first time.
Before this the No.6 Reynard-Mopar stopped at Mulsanne with accelerator problems but managed to get back to its pit. At around 20h35, the No.3 Cadillac driven by Franck Lagorce had a tyre blow on Les Hunaudières but luckily he managed to keep it on the track, and after repairs the car rejoined in 32nd spot at 21h40 in the hands of Andy Wallace who promptly set the quickest lap so far recorded by a Cadillac. On the No.2 Cadillac the rear wing and extractor were changed and it quickly fought back to 19th place.

LMP 675 : Falling like flies !
There were not many LMP 675s at the start and they were soon in trouble as No.33, the Reynard-ROC retired soon after 20h00 (engine) while its sister car was also afflicted by similar problems. The No.35 WR was hit by overheating but its team-mate No.36 driven by Balandras-Terada-Boulay was still running strongly. Thus, it was the Lola-Nissan in the hands of Canadians, Maxwell­Graham-Wilkins, that led the dance.

The Vipers dominate in LM GTS
The three Team Oreca Vipers were in the lead in spite of the heroic attempts of the Corvettes to follow their rhythm, the Chevrolets being only a lap down. In the overall classification the Chryslers were in 14th, 15th and 16th positions led by No. 51 driven by Olivier Beretta.
In the LM GT Category the Dick Barbour Racing GT3-R No.83 dominated ahead of the No.73 Porsche of Fukuyama-Yogo-Lambert.
Classement après 6 heures de course (22 heures)

| | | | | | | |
| --- | --- | --- | --- | --- | --- | --- |
| Pos. | Num. | Cat. | Team | Chassis/Moteur | Nb. tours | Ecart |
| 1 | 9 | LM P900 | AUDI SPORT TEAM JOEST | AUDI R8 / AUDI 3596T | 88 | |
| 2 | 7 | LM P900 | AUDI SPORT TEAM JOEST | AUDI R8 / AUDI 3596T | 88 | 10.106 |
| 3 | 8 | LM P900 | AUDI SPORT TEAM JOEST | AUDI R8 / AUDI 3596T | 87 | 1t |
| 4 | 11 | LM P900 | PANOZ MOTORSPORTS | PANOZ SPYDER LMP / FORD 6000A | 87 | 3.01.202 |
| 5 | 12 | LM P900 | PANOZ MOTORSPORTS | PANOZ SPYDER LMP / FORD 6000A | 85 | 3t |
| 6 | 21 | LM P900 | TEAM RAFANELLI SRL | LOLA B2K/10 / RAFANELLI 3997A | 84 | 4t |
| 7 | 3 | LM P900 | DAMS | CADILLAC LMP / NORTHSTAR 3990T | 84 | 16.088 |
| 8 | 24 | LM P900 | JOHANSSON MATTHEWS RACING | REYNARD 2KQ / JUDD 4000AE | 84 | 3.20.449 |
| 9 | 15 | LM P900 | THOMAS BSCHER PROMOTION | BMW LM / BMW 5990A | 84 | 5.26.442 |
| 10 | 22 | LM P900 | TV ASAHI TEAM DRAGON | PANOZ SPYDER LMP / FORD 6000A | 83 | 5t |
| 11 | 16 | LM P900 | PESCAROLO SPORT | COURAGE C52 / PEUGEOT 3200T | 83 | 1.02.120 |
| 12 | 23 | LM P900 | TV ASAHI TEAM DRAGON | PANOZ SPYDER LMP / FORD 6000A | 82 | 6t |
| 13 | 17 | LM P900 | SMG | COURAGE C60 / JUDD 3996A | 80 | 8t |
| 14 | 51 | LM GTS | VIPER TEAM ORECA | CHRYSLER VIPER GTS-R / CHRYSLER 8000A | 80 | 55.051 |
| 15 | 52 | LM GTS | VIPER TEAM ORECA | CHRYSLER VIPER GTS-R / CHRYSLER 8000A | 80 | 1.37.586 |
| 16 | 53 | LM GTS | VIPER TEAM ORECA | CHRYSLER VIPER GTS-R / CHRYSLER 8000A | 80 | 2.18.048 |
| 17 | 63 | LM GTS | CORVETTE RACING/GARY PRATT | CORVETTE C5-R / CORVETTE 6991A | 79 | 9t |
| 18 | 2 | LM P900 | TEAM CADILLAC/BILL RILEY | CADILLAC LMP / NORTHSTAR 3990T | 79 | 58.995 |
| 19 | 64 | LM GTS | CORVETTE RACING/GARY PRATT | CORVETTE C5-R / CORVETTE 6991A | 79 | 1.35.394 |
| 20 | 57 | LM GTS | CARSPORT HOLLAND | CHRYSLER VIPER GTS-R / CHRYSLER 8000A | 78 | 10t |
| 21 | 32 | LM P675 | MULTIMATIC MOTORSPORT | LOLA B2K/40 / NISSAN 3000A | 78 | 1.13.883 |
| 22 | 83 | LM GT | DICK BARBOUR RACING | PORSCHE GT3 R / PORSCHE 3600A | 77 | 11t |
| 23 | 56 | LM GTS | TEAM GOH/J | CHRYSLER VIPER GTS-R / CHRYSLER 8000A | 77 | 50.307 |
| 24 | 59 | LM GTS | FREISINGER MOTORSPORT | PORSCHE 911 GT2 / PORSCHE 3800T | 76 | 12t |
| 25 | 60 | LM GTS | KONRAD MOTORSPORT | PORSCHE 911 GT2 / PORSCHE 3800T | 76 | 1.31.875 |
| 26 | 73 | LM GT | TEAM TAISAN ADVAN | PORSCHE GT3 R / PORSCHE 3600A | 76 | 3.48.746 |
| 27 | 81 | LM GT | HABERTHUR RACING | PORSCHE GT3 R / PORSCHE 3600A | 74 | 14t |
| 28 | 76 | LM GT | SEIKEL MOTORSPORT | PORSCHE GT3 R / PORSCHE 3600A | 74 | 2.36.651 |
| 29 | 79 | LM GT | PERSPECTIVE RACING | PORSCHE GT3 R / PORSCHE 3600A | 73 | 15t |
| 30 | 36 | LM P675 | WELTER RACHEL | WR LMP / PEUGEOT 2000T | 73 | 26.198 |
| 31 | 54 | LM GTS | PAUL BELMONDO RACING | CHRYSLER VIPER GTS-R / CHRYSLER 8000A | 73 | 1.03.972 |
| 32 | 1 | LM P900 | TEAM CADILLAC/BILL RILEY | CADILLAC LMP / NORTHSTAR 3990T | 72 | 16t |
| 33 | 75 | LM GT | MANTHEY RACING | PORSCHE GT3 R / PORSCHE 3600A | 72 | 1.22.262 |
| 34 | 80 | LM GT | RENSTAL EXCELSIOR | PORSCHE GT3 R / PORSCHE 3600A | 72 | 3.43.290 |
| 35 | 34 | LM P675 | ROC | REYNARD ROC VW / VW 1997T | 71 | 17t |
| 36 | 82 | LM GT | SKEA RACING INTERNATIONAL | PORSCHE GT3 R / PORSCHE 3600A | 70 | 18t |
| 37 | 72 | LM GT | REPSOL RACING ENGINEERING | PORSCHE GT3 R / PORSCHE 3600A | 64 | 24t |
| 38 | 6 | LM P900 | MOPAR TEAM ORECA | REYNARD 2KQ / MOPAR 6000A | 52 | 36t |
| 39 | 10 | LM P900 | TEAM DEN BLAS AVIS | PANOZ SPYDER LMP / FORD 6000A | 46 | 42t |
| 40 | 35 | LM P675 | WELTER GERARD | WR LMP / PEUGEOT 2000T | 38 | 50t |
Communiqué de presse