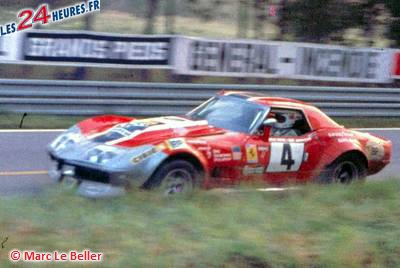 Les Chevrolet Corvette de seconde génération firent leurs débuts aux 24 heures du Mans 1967, avec, au volant, les légendaires Dick Guldstrand et Bob Bondurant.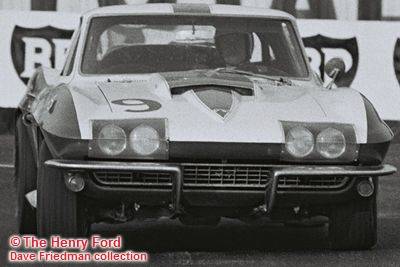 LeMans 1967. Inscrit par Dana Chevrolet, un concessionnaire de Californie du Sud ayant beaucoup d'ambitions, le coupé bleu-blanc-rouge filait sur la ligne droite des Hunaudières avec toute la puissance de son moteur « big block » à 275 km/heure.
Le moteur L-88 ne fut toutefois pas à la hauteur de la tâche pour les 24 heures, et la journée de la Corvette prit fin peu avant la mi-course.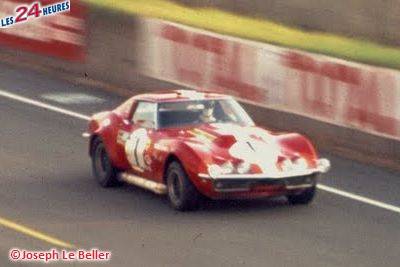 Henri Greder était le pilier des programmes compétition de Corvette sur le Circuit de la Sarthe. Greder et Bob Lutz convainquirent Georges Filipinetti, patron d'une écurie suisse, de monter une équipe de deux Corvettes au Mans en 1968 sous la bannière de la Scuderia Filipinetti.
Greder et Umberto Maglioli dominèrent la course en catégorie GT jusqu'à la sixième heure où des avaries de moteur entraînèrent un abandon précoce, tandis que Sylvain Garant et Jean-Michel Giorgi, coururent 14 heures jusqu'à ce qu'un accident les contraigne à abandonner.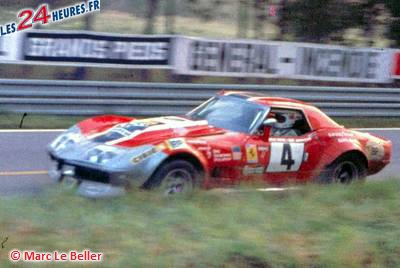 Greder et Marie-Claude Beaumont, sa copilote, conduisirent cette vénérable Corvette vers d'autres victoires dans la classe des > 5 litres en 1973 et 1974.
Les six années suivantes une Corvette Greder établit un record de participations d'un même châssis au Mans.
1972 marqua la première apparition de John Greenwood, icône de chez Corvette, au Mans. Avec pour copilote, Dick Smothers, animateur de la fameuse émission télévisée des Smothers Brothers.
La Corvette de Greenwood était peinte aux couleurs du drapeau américain et courait sur des pneus de série radiaux de son sponsor. L'équipage Greenwood/Smothers se qualifia 38e et dut abandonner au bout de 10 heures de course, c'est-à-dire qu'il courut une heure de plus que la voiture de la même équipe conduite par Alain Cudini et Bernard Darniche.
1973, Greenwood revint avec deux voitures, dont une avec Don Yenko, concessionnaire Chevrolet, mais sans succès.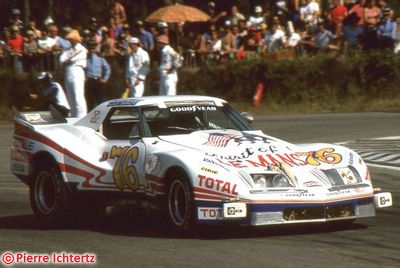 Gentiment appelées les « Batmobiles », les créations originales de Greenwood avec leur spoiler rappelaient vaguement les Corvettes de série de la troisième génération et avaient un moteur « big block » à injection. Les engins de Greenwood roulaient, dit-on, à la vitesse maxi de 386 km/h à Daytona. (Gary Pratt, maître d'œuvre du team Pratt & Miller qui lança les concurrents du Corvette Racing, fut incontournable pour la construction des Corvettes Greenwood).
De nouveau décorée du drapeau américain, Greenwood dompta la formidable puissance du moteur V-8 Chevrolet « big block » à injection et se qualifia neuvième. Au bout de cinq heures de course, un réservoir endommagé mit fin au chapitre Greenwood au Mans.

1966-76: Corvette at Le Mans

Chevy's second-generation Corvette made its Le Mans debut in 1967 with Corvette legends Dick Guldstrand and Bob Bondurant sharing the driving duties. Entered by Dana Chevrolet, a Southern California dealership with an ambitious performance program, the red, white and blue coupe blitzed the Mulsanne Straight with big-block horsepower at 171 mph. The L-88 engine was not up to the task for the entire 24 hours, however, and the Corvette's day ended shortly before the halfway point. Today Bondurant uses Corvettes in his high-performance driving school.
European teams kept Chevy in the game at Le Mans during the late '60s and early '70s. Henri Greder was the mainstay of Corvette's racing programs at Circuit of the Sarthe. Greder and Bob Lutz (now GM vice chairman, North American product development) convinced Swiss racing patron Georges Filipinetti to campaign a two-car Corvette team at Le Mans in 1968 under the Scuderia Filipinetti banner. Greder and Umberto Maglioli dominated the competition in the GT class until the sixth hour when engine problems caused an early retirement, while teammates Sylvain Garant and Jean-Michel Giorgi lasted 14 hours until they were sidelined in an accident.
In 1969 Greder and Reine Wisell were leading the GT class at the 16-hour mark but again retired; the pair went on to win seven of the 11 events that made up the 1969 Tour de France with their big-block Corvette. The car was then sold to Jean Claude Aubriet who entered it four more times in the 24 Hours of Le Mans from 1970-73. Greder and co-driver Marie-Claude Beaumonth drove the venerable Corvette to consecutive wins in the over-5000 cc class in 1973 and 1974. The Greder Corvette's six consecutive years at Le Mans set a record for appearances by a single chassis.
1972 marked the first appearance of Corvette icon John Greenwood at Le Mans. Teamed with comedian Dick Smothers, host of the popular Smothers Brothers television show, Greenwood's Corvette was painted like an American flag and raced on his sponsors' street radial tires. The Greenwood/Smothers entry qualified 38th and retired after 10 hours, lasting one hour longer than its team car driven by Alain Cudini and Bernard Darniche.
Greenwood returned the following year with another two-car effort that included Chevy dealer Don Yenko, but without success.
When Greenwood came back to Le Mans in 1976, he was loaded for bear. In the intervening years he had developed a succession of outrageous wide-body Corvettes for SCCA and IMSA road racing competition. Affectionately dubbed the "Batmobiles," Greenwood's flared and spoilered creations were loosely based on production third-generation Corvette frames and infused with liberal doses of fuel-injected big-block power. Greenwood's machines were reported to have a top speed of 240 mph at Daytona, a level of performance that inspired Hot Rod magazine to proclaim them the fastest Corvettes in the world. (Gary Pratt, architect of the championship-winning Pratt & Miller team that campaigns Corvette Racing's C5-R coupes, was instrumental in building the Greenwood Corvettes.) Again wearing a patriotic American flag paint scheme, Greenwood harnessed the prodigious power of a fuel-injected big-block Chevy V-8 to qualify ninth. A brand-new fuel cell failed after five hours, ending the Greenwood chapter at Le Mans.